Thoughts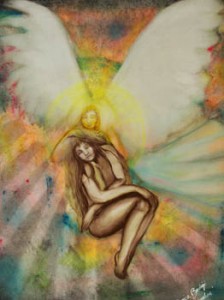 Fairies… they are ether's flowers whose freshness spreads out in the air, their libration presents laughs… and more quietness.
Fairies are dew's drops in the desert. They feed and keep relief to the arid world or to whom has made aridity as its own world.
Fairies warm souls with their fire.
Fairies eat common things, but their spirit feeds dreams, their laugh feeds colours, their looking feeds and losses itself into the skyline… their heart feeds what they lovely receive. Their mind feeds hope for dreaming, hoping that dream is reality.
Fairies live and shine from light they have inside. They give joy as they represent the same joy, they are soft and fragile… but they have gods' same force. They can give the paradise, but they know revenge in one only word, they are splendid…
Please, travel with me, come with the fairy…
Thus, my proud knights, take your sword, raise it to the sky, come with this fairy and fight next to her against the assassin ogres, dreams' voracious devourers, further attack…
Monica Bedini